I heard on Auntie Beeb early yesterday morning that details had leaked of the Deciderer's new Iraq strategery: and I damn near fell out of bed laughing when the announcer said that sources indicated that the theme of the preznit's latest "Shit, I gotta find another New Way Out of Eye-Raq" speech was going to be "sacrifice." I didn't shout anything at the radio, though, because I couldn't decide whether it should be "About fucking time, you fatuous git!" or "I do not think that word means what you think it means," in my best Iñigo Montoya accent.
The word "sacrifice" rings exceedingly hollow on the lips of a man born with a silver coke spoon up his nose, a man who has ruthlessly and repeatedly traded upon his name, his wealth, and his powerful political connections to shield himself from "the slings and arrows of outrageous fortune." It is positively blasphemous in the mouth of the man who, having evaded any possibility that he might be called upon to give what Lincoln famously called "the last full measure of devotion" for his country, subsequently lied himself--and the rest of the nation--into an unjust and unjustifiable war: whereupon he told us it was our patriotic duty to go shopping. And subsequently repeated that advice, three years on.
All right, Mr. Preznit. You want to start a conversation about sacrifice, that's just fine and dandy with me. I'll even start it. How about you start noticing sacrifices like these, instead of just airily proclaiming everything is going fine and dandy in Iraq? How about you start going to the funerals of some of the 3,000-plus servicemen and -women who have thus far given their lives in the furtherance of your insane policies? How about we start seeing a few photos like these on the evening news, instead of having to file FOIA requests just to find out that they exist in the first place?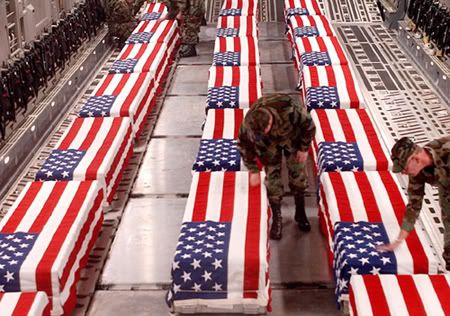 (Photo courtesy of The Memory Hole.)
Please do start that conversation, Mr. Bush. Because I guarantee you will not like the way it turns out. I, on the other hand, expect to enjoy myself immensely at your discomfiture, and that of your political party. Things are never going to get better for you, or for your party, as long as you continue to grope blindly for something, anything, that will make you look better in the opinion polls or the unforgiving glare of the historical record--and to sacrifice the lives and aspirations of thousands of our servicemen and -women, plus tens of billions of dollars we don't have, to do it.
There is one, and only one, sacrifice that will make that happen. You are going to have to go on national television and candidly admit that you were wrong. You lied us into this useless war, and that was wrong, and you're very sorry you did it, and you're going to make amends by getting us out of there as quickly as possible. You will have to sacrifice your arrogant pride that can never admit to having made a mistake or being in the wrong. You will have to humble yourself if you would remain in your exalted position as the soi-disant leader of the free world. As we say in my faith tradition, confession is good for the soul. You should try it sometime.